Sandhurst and District
Gardening Club
OTHER NEWS
The following information provided by other organisations may be of interest to Gardening Club members. Information is correct to the best of our knowledge, but you may wish to check the organisers website before travelling to an event.






Windsor & Slough Chrysanthemum Fuchsia & Pelargonium Society
This group meets at Gardeners Hall, 213 St Leonards Road, Windsor SL4 3DR
Events for 2018 will be shown here later.
Big Garden Birdwatch
The Big Garden Birdwatch is on the weekend 27th - 29th January. If you haven't joined in before, do try it this year. You only have to spend an hour counting the birds in your garden and it can be done while staying in the warm. Restock your bird food from the trading hut in preparation for the event.
For more information visit the RSPB website rspb.org.uk/birdwatch
National Gardens Scheme Events For Early 2018
NOTE All the following events need to be booked in advance
Snowdrops at Welford Park, Newbury,
Welford Park is one of the finest natural snowdrop woodlands in the country, approx 4 acres, along with a wonderful display of hellebores throughout the garden and winter flowering shrubs. This is an NGS 1927 pioneer garden on the River Lambourn set around Queen Anne House (not open). Also the stunning setting for Great British Bake Off.
Malverleys, Newbury
A 10 acre dynamic gardens which have been developed over the last 6 years to include magnificent mixed borders and a series of contrasting yew hedged rooms, hosting flame borders, a cool garden, a pond garden and new stumpery. There is also a vegetable garden with striking fruit cages sit within a walled garden, also encompassing a white garden. Meadows open out to views over the parkland. Featured on BBC Gardener's World ( July 2017).
Sunday 29 April, Sunday 29 July, 2-5
Admission £12, child free, which includes, tea, cake and tour at 2pm or 3.30pm with the Head Gardener
Pre-booking is essential Tickets on sale now by visiting www.ngs.org.uk or phoning 01483 211535 for information.
Spring Talk & Walk, Compton Elms, Pinkneys Green, Nr Maidenhead.
The talk will be indoors where you can enjoy tea and cake before exploring the garden that includes a pretty sunken woodland garden and a lovingly recovered clay pit workings. The atmospheric garden is filled with snowdrops, primroses, hellebores and fritillaria, interspersed with anemone and narcissi under a canopy of ash and beech.
Saturday, 17 March or Wednesday, 21 March at 2pm
admission £10 which includes afternoon tea
Pre-booking is essential. Please contact Alison Kellett by phone 01628 634334 or email kellettaj@gmail.com
Winter Talk & Walk, St Timothee, Pinkneys Green, Nr Maidenhead.
Come and see St Timothee outside the usual garden visiting season. Starting with a talk (indoors) about 'The Winter Garden', we will cover the key elements that make a garden shine through even the darkest months with photos drawn from gardens across England. The talk will be followed by a Q&A session and then a walk round St Timothee to see plants that make a Winter Garden.
Thursday, 18 January, 10.30 for 11.00 start
admission £10 which includes talk, tour, tea and cake
Pre-booking is essential Please contact Mr and Mrs Pajwani by phone on 07976 892667 or by email on pajwanisarah@gmail.com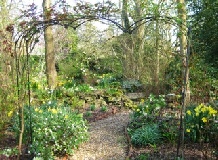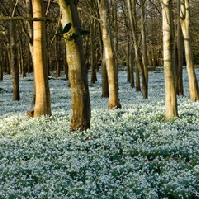 Butterflies in the Glasshouse - at Wisley
Escape to tropical climes at RHS Garden Wisley from 13th January - 4th March
Butterflies in The Glasshouse returns to Wisley this winter, providing a unforgettable tropical retreat for visitors! Seek out more than 50 vibrant species of exotic butterflies as they fly freely among the Tropical Zone of the cathedral-like Glasshouse. Our special guests will showcase their magnificent colours, patterns and form among lush plantings such as palm trees, bananas, bromeliads and climbers, as well as the aquatic plants that thrive in the warm jungle pool.
RHS London Shows
The RHS have put big plans into action for the RHS London Shows, offering visitors more to see and do. The funds from their ticket sales is being invested in supporting our charitable aims such as helping future gardening apprentices.
These shows, held at both the RHS' Lindley and Lawrence Halls, are now ticketed events costing £5 for RHS members (in advance and on the day), and £6 for non-members (£9 on the day). The RHS is committed to growing the next generation of gardeners and, in line with this ambition, the funds from these tickets will help pay for RHS Apprentices, to enable young people to follow careers in horticulture
· RHS Early Spring Plant Fair on 13 – 14 February
· RHS Orchid Show & Plant Fair on 6 – 7 April
· RHS Plant & Art Fair on 11 – 12 July
· RHS Urban Garden Show on 27 – 28 October
· RHS Harvest Festival Show on 2 – 3 October (this is a FREE event)
See www.rhs.org.uk/shows for further information and ticket sales
Wednesday 31st January to Wednesday 4th March
Open Wednesday to Sunday (closed Mondays and Tuesdays)
11am - 4pm
Admission £7 (adults) £6 (concessions) £3 (children)
Light refreshments available
Dogs welcome on leads
Directions: M4 J13, A34(S). After 3 miles exit for A4(W) to Hungerford. At 2nd roundabout take B4000, after 4miles turn R signed Welford. Entrance on Newbury-Lambourn road. Post code RG20 8HU.
These snowdrop days support a number of charities, in particular the National Gardens Scheme on Wednesday 7 February